Aproda Quality Control
setup and user guide
Aproda Quality Control. Helps your business grow.
With our App Aproda Quality Control you will receive several funticionality which supports your users in the daily business.
Aproda Quality Control offers the following principal features:
Status-based management of Inspection Plans and Inspection Orders with versioning
Item receipt inspection
Value recording during production orders, inspection of the output
Manual (ad-hoc) inspection
Lot and serial no.-specific inspection
Measurement value capturing at lot or sample level
Automatic determination of sample level
Versioning of all documents (inspection plans, inspection orders)
Templates to efficiently create inspection plans
Inspection certificate printing
Setup Aproda Quality Control
The following settings control the behavior of the Aproda Quality Control module
Master Data
Item Card
ASQC supports the inspection of lots and serial numbers. Therefore only items tracked accordingly can be used in Inspection Plans and Orders.
User Scenario 1: Prepare an Item Card to be included in inspection
1. On the Home Page, click the Items menu entry
2. Navigate to item no. 80216-T (Ethernet cable)
3. Create Test Order = True
4. Default QC Status = Untested
5. Make sure the Item Tracking Code is set to LOTNOALL (or any other lot-requiring code)
Note: For lot-tracked items which are not to be tested the Default QC Status must be set to Released – otherwise using them in orders will not be possible, as Lot Information Cards will not automatically be released.

Inspection Plans
Inspection plans define which items are inspected by which properties in which processes. They serve as sources for the Inspection Orders (cf. 5), where the actual measurements are recorded.
Whenever an Inspection Plan is released an Inspection Plan Version is generated automatically.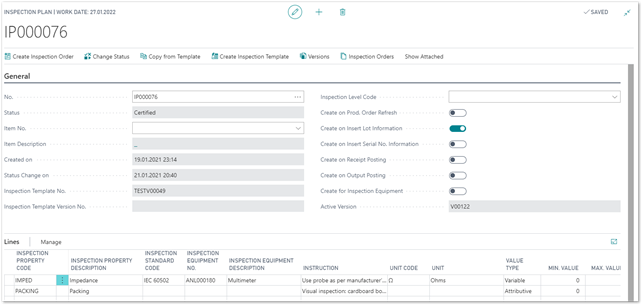 Inspection Order Processing
The Inspection Order is the task to take measurements for a certain Lot or Serial No. unit of an item, based on the underlying Inspection Plan.